There is something about Abed Bwanika that draws respect if it's not his knowledge of Uganda it's his abandonment of his career as a veterinary doctor to join the mucky world of politics. From a fresh faced young man when he first contested as a presidential candidate his stood by the very values he started out with.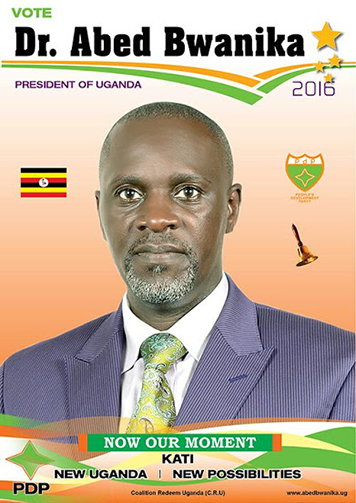 Many he started out with have changed parties, turned against the establishment and fallen back in love with it but not Abed Bwanika. Only thing that has changed are the figures about Uganda's $27bn economy, the failing agriculture industry and our inability to attract big money investors to the country.
This numbers fly off his head without flipping a page, embedded with intellectual sound bites the type you want in your state house. His ideas are progressive yet fresh and grounded and he knows when to give a high five to the legends of past about their contribution in the growth of Uganda as a nation.
He wants to radically change our education system from a theoretical one to one meant to test the candidates because it all starts in the classroom. From there it treks to the family no wonder his strong anti-gay viewed but this can change when as president he realises that there are situations you have to bat an eye.
The very fact that he has never sought to change his party is reason enough to get him into state house because you are sure he won't change to the next fad that comes to town. He will have strong emphasis on the economy as well as the family unit which is the nucleus of the modern Uganda and given his a pastor you definitely know how important such things are.